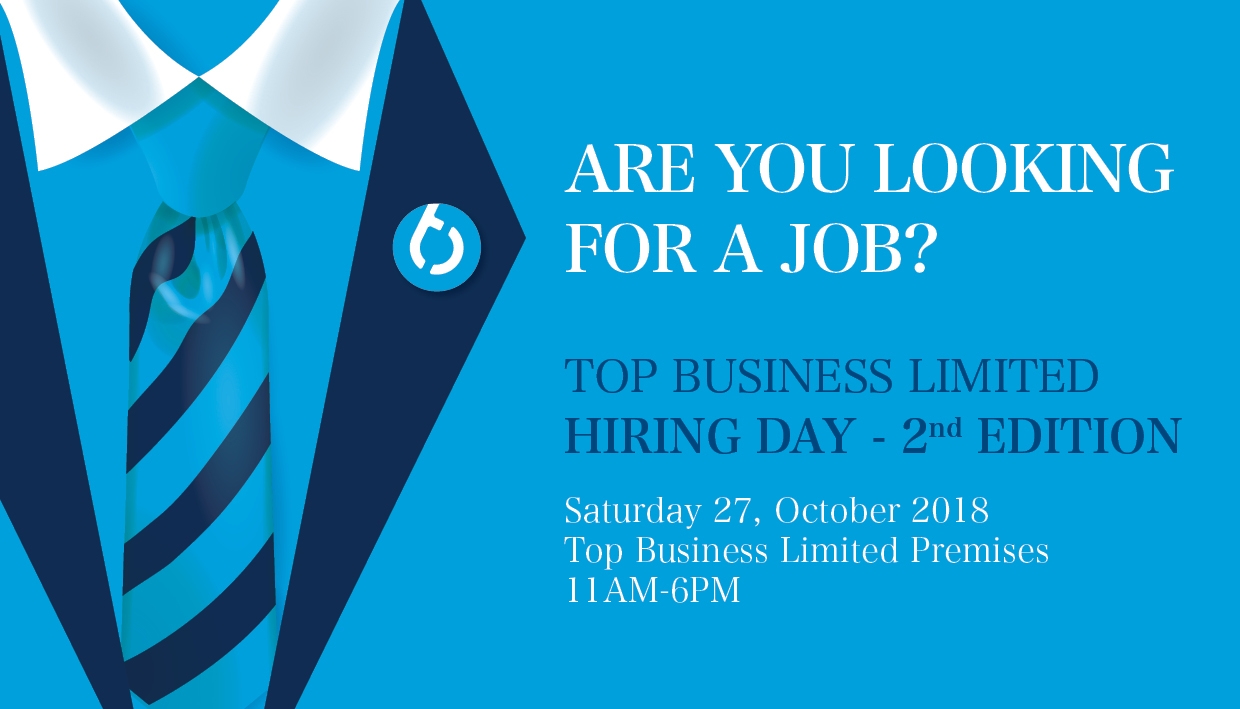 If you are searching for a job come join Top Business Limited, Hiring Day, 2nd Edition on Saturday 27th of October 2018 and get interviewed on the spot. 

Come meet our Recruitment Consultants and discuss your next job opportunity, in addition you can join our Business Etiquette session.

Available job opportunities:
Account Receivable Accountant

Account Receivable Associate

Accountant

Admin Receptionist

Administrator

Brand Ambassador

Call Center Team Leader

Customer Care

Customer Service Banking

Digital Social Media Analyst

HR specialist and Admin

IT Procurement

Junior Accountant

Junior Payroll

Junior Data Entry

Junior General Accountant

Junior Logistics

Product Sales Coordinator

Receptionist

Recruiter

Sales B2B

Sales B2C

Sales Banking

Sales Junior Account Manager

Sales Services & Product

Secretary

Senior Logistics

Senior Sales B2B

Senior Sales B2C

Senior Sales Services and Product

Software Quality Control

Telemarketing Agent
Regions: 
Egypt, Africa and the Middle East.
Event Date: 
Saturday October 27th, 2018
Event Time:
11:00AM and 06:00PM* 
*You can come at anytime between 11:00AM and 06:00PM
Event Location:
 Top Business Limited Premises. 
Get Directions
Dress Code:
Semi-Formal  
Business Etiquette Session:
During the Hiring Day you have the chance to attend a complimentary session on business etiquette, during the session you will learn the basics of business and social etiquette. You will be introduced to the professional behavior and proper etiquette practices of business and social introductions. Our experts will teach you how to use body language and all about business dressing etiquette.  
Points covered during the session:
• Business versus Social Etiquette Basics; know how to act in the work place and in social situations
• The Art of Introductions; who should be introduced first in the workplace.
• The Power of a Handshake; how to properly shake hand and make the right impression
• Maintaining a Professional Body Language
• Dressing for Business; How to dress properly in the workplace.  
The Business Etiquette Session is repeated in the below timings*:
11:30AM to 12:00AM
01:30PM to 02:00PM
03:30PM to 04:00PM
* Session is repeated as per the above timings, you can attend at your preferred time.
* Session is FREE
On the event day bring the confirmation email you will receive after registration and a hard copy of your CV.  
To attend the event and book your seat in the session, please fill in the below registration form.
Registration Form